2020 Annual Convention Sponsorship Opportunities
A variety of sponsorship levels are available exclusively to NIBA members. Your support of the NIBA Annual Convention is crucial to the success of this event!
Sponsors of the 2019 NIBA Annual Convention will have first right of refusal on any event that your organization supported last year. The first right of refusal deadline is Friday, May 15. Beginning Monday, May 18 all remaining sponsor opportunities will be available to any NIBA member company and sold on a first-come, first-served basis until all items are sold. Member companies can choose a sponsorship level to receive the benefits listed and then select one opportunity offered at that level.
Run the numbers! The Diamond+ and Diamond sponsorship levels include up to four registrations and premium exhibit space (approximately $4k value)! If your company plans to send multiple registrants and exhibit, either of these levels are sure to be a win-win solution with the addition of prime sponsor exposure to position your company as a leader in the belting community.
Looking to enhance your sponsorship? We've highlighted a few creative ways to maximize your commitment and add that "wow" factor your company is looking for! Refer to the section below for more information.  We are happy to mix and match benefits to suit your company's needs!
Opportunities available outside of the Annual Convention: NIBA is offering sponsorship engagements throughout the year such as sponsored webinars and advertisements in the Belt Line newsletter and on our website, which you can bundle with your convention sponsorship package to create more ROI throughout the year.
Terms: Payment is due upon receipt of the sponsorship agreement.
Contact Amanda Stimart at amanda@niba.org or 571-366-5588 to reserve your sponsorship opportunity today!
Choose an Option From One of the Levels Below
Select tabs to see the exclusive benefits for each sponsorship level. In addition, all sponsors receive:
Recognition as a sponsor on signage near registration and in select digital or web materials, including sponsor profile in Convention mobile app
Inclusion of corporate logo on niba.org
Social media tag on LinkedIn, Facebook and Twitter thanking you for your support
Diamond+ Level — $12,500
Diamond+ Benefits
Up to four (4) Convention registrations
Opportunity for two (2) exhibit booths at the NIBA Expo with prime placement in the Exhibit Hall. Both booths will be placed next to each other
Private Business Suite: A small meeting space can be made available for your company on Thursday, Friday, and Saturday for business meetings conducted without conflict to NIBA convention programming.
Daily push notification in the Annual Convention mobile app recognizing your support. Notifications are received directly on any attendee's mobile device that has downloaded the app.
Promotion brochure in the Convention mobile app "Virtual Registration Bag" – a menu item of brochures and marketing pieces that would normally be printed and distributed in an attendee bag
Up to (4) advertisements in a 2020 or 2021 calendar year edition of NIBA's Belt Line newsletter exclusively for NIBA members, as well as the opportunity to sponsor a NIBA webinar
Promotional ad or video posted on NIBA's social media channels tagging your company as well as posted on niba.org through the conclusion of the event
50% discount off the cost of your company participating in the Hospitality Suite Hub ($4,000 value)
Diamond+ Opportunities - Choose one to complete your sponsorship
Mobile App
Attendees will access the Convention program, session details and exhibit information via the mobile app on their smartphones, tablets or the web. The sponsor's logo will be featured on the app splash page, a rotating banner within the app and their own dedicated icon on the homepage of the app. Production included.
---
Wi-Fi
Internet access will be available to Convention attendees at the Hilton Austin. Opportunities for sponsor recognition include featuring the sponsor's logo on the wifi landing page and/or the option to customize access login credentials such as the username and/or password. Complete scope of sponsor options to be confirmed pending venue capabilities. Production included.
Diamond+ Exclusive Upgrade
Add a Networking Lounge for $4,500 (Only for Diamond and Diamond+ Sponsors)
Attendees say year after year the number one benefit of attending the Annual Convention is networking. Each lounge will feature a soft seating nook ensuring attendees will visit this space often for one-on-one meetings, to catch up on work, or to reconnect with colleagues. The Networking Lounges will be in a highly trafficked area conveniently located near key programming spaces guaranteeing prime sponsor recognition. Networking Lounge sponsors may also setup a demo area within the lounge to showcase products and/or services. Custom branding included.
Two Lounge opportunities are available:
Friday, September 18 – Education Day: 7:30 am – 12:30 pm
Saturday, September 19 – Expo day: 7:30 am – 12:30 pm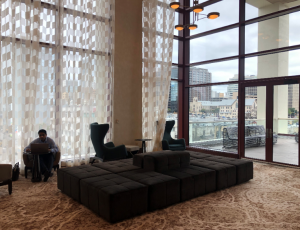 If you're looking for a unique way to enhance your sponsorship presence or have a limited budget, but would still like to support the 2020 NIBA Annual Convention, consider sponsoring the NIBA Fun Run/Walk on Saturday, September 19 or sponsor a golf hole during the NIBA golf outing on Thursday, September 17.
Fun Run/Walk — $500
NIBA brings the FUN! The Fun Run/Walk will take you through the Hike and Bike Trail along the shores of Ladybird Lake. For $500 your logo will be featured on the commemorative Fun Run/Walk participant shirt, in Fun Run/Walk promotions and on signage near the Fun Run/Walk registration area. Unlimited Fun Run/Walk sponsorship opportunities are available to NIBA members, pending shirt and signage production timeline.
Manufacturer Hospitality Suite Night
Manufacturer Hospitality Suite Night is a highlight of the Annual Convention and will be held at the Hilton Austin on Friday, September 18. NIBA has already secured several event spaces to make it as easy as possible for our Manufacturer members to participate and we are excited to offer two methods to reserve your networking reception space.
New this year: Manufacturer Hospitality Suite "Hub" — Several meeting rooms located in the same or parallel corridors of the Hilton Austin will be designated as the Hospitality Suite Hub. NIBA will select and provide light appetizers and standard open bar service will be available in the Hub's shared foyer space. Each Hub suite host will contribute $4,000 at the time of the suite reservation to offset shared food and beverage costs. Hub suite organizers may offer additional food, beverage, décor and entertainment within their designated suite area, at their own expense. NIBA will assign suite locations within the Hub.
Private Manufacturer Hospitality Suite — Suite hosts that prefer a more exclusive space and want to select their own food and beverage may select the suite space of their choice.
To request a hospitality suite, please complete the application form, rank your preferred Hub or private suite locations and return to Amanda Stimart at astimart@niba.org. Upon completion of the form, NIBA will confirm manufacturer hospitality suite assignments via email. Once confirmed, NIBA will provide Manufacturer members with the appropriate contact information at the Hilton Austin to coordinate logistical details for their respective hospitality suite.